Put the best dental billing services to work to solve your dental billing issues. Dental billing is difficult due to the complexity of billing systems and the ever-changing standards of dental insurance with their price schedule agreements. We are a top dental billing company that provides the most up-to-date tactics and procedures to help you resolve billing issues and maximize your profits.
Our first goal is to support your business in collecting any outstanding insurance payments. To maintain your insurance account balances under ninety (90) days to a bare minimum, we must be involved in some aspects of your insurance claim processing.
If you want to save time, money, and get back to visiting your patients. We offer a full range of dental billing services, as well as detailed dental eligibility verification and other services to assist you in running your business more efficiently.
Our dental billing company's AR management professionals work very hard to guarantee that accounts receivables are reduced and actively managed. When it comes to revenue cycle management, we put a premium on detecting and resolving potential challenges. Reduce the time it takes to follow up on AR by handling your dental insurance verification and authorizations.
Services We Offer for Dental Billing Solutions
It's never been easier to outsource insurance dental billing claims. Our high success rate is due to our great customer service and in-depth understanding of medical billing for dental solutions. We built a reputation for providing superior dental billing services in the USA over the last 10 years. Whenever it comes to insurance dental billing solutions, we offer the following services: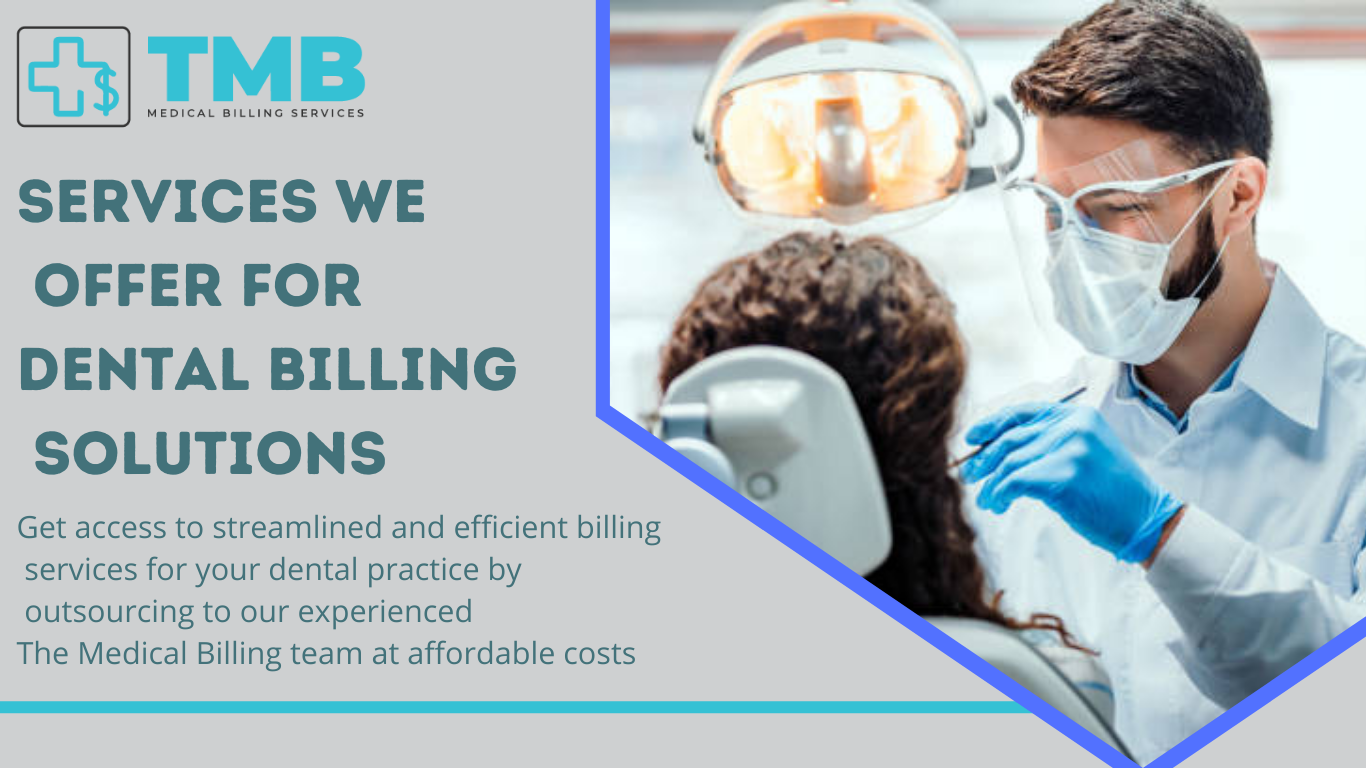 Eligibility Verification:
We will give you a list of essential documents on which we will report your dental claim. This involves verifying the validity of policy facts like deductibles, co-insurance, payable benefits, effective policy date, all-around coverage information, co-payment options, and so on. Before beginning the claim procedure, we verify and review all facts to ensure that you pay no money to the insurance company.
Authentication
The authenticity of all documents, bills, case files, and invoices required for dental billing is double-checked. We examine and identify any circumstances that could cause the claim procedure to be delayed or denied. Please be aware that any illegitimate information will result in the claim procedure being canceled.
Date Entry
Patient demographics and treatment, consultation dentist details, hospital/dental clinic data, and all code sets must all be entered. After a thorough entry into the most recent billing software, all data is submitted electronically. The dental claim is provided to you as an e-copy and a physical copy (upon request).
Claim Processing
After entering the billing program, all inputs are double-checked to verify that no errors occur during processing. All claims are filed by the insurance company's procedures. We send you the claim papers for analysis and then wait for your permission before sending you the final report. Claims that satisfy the editing process are then converted to HIPAA-compliant ANSI format and forwarded to the insurer.
Claims Resubmissions
Claims that do not follow the insurance policy's terms and conditions are fixed and resubmitted. Any denials are validated, and then an appeal for reconsideration is filed. We file the disallowed claim as a new application after it is granted.
Resolutions on Billing
Our staff is strong as well as having great verbal and written skills, allowing us to provide total billing support. We offer you a system for taking the appropriate action if any bills, invoices, or confidential papers go missing or are misplaced.
Indexing and Preservation of Data
We keep track of all insurance coverage, EOBs, patient information, and treatment history in a database. This allows for quicker retrieval of information for rapid assessments in the case that any dental data is needed in the future. The record of all past claims is kept private and kept track of in a systematic manner. You can request a duplicate copy of the medical and/or encounter claim at any time.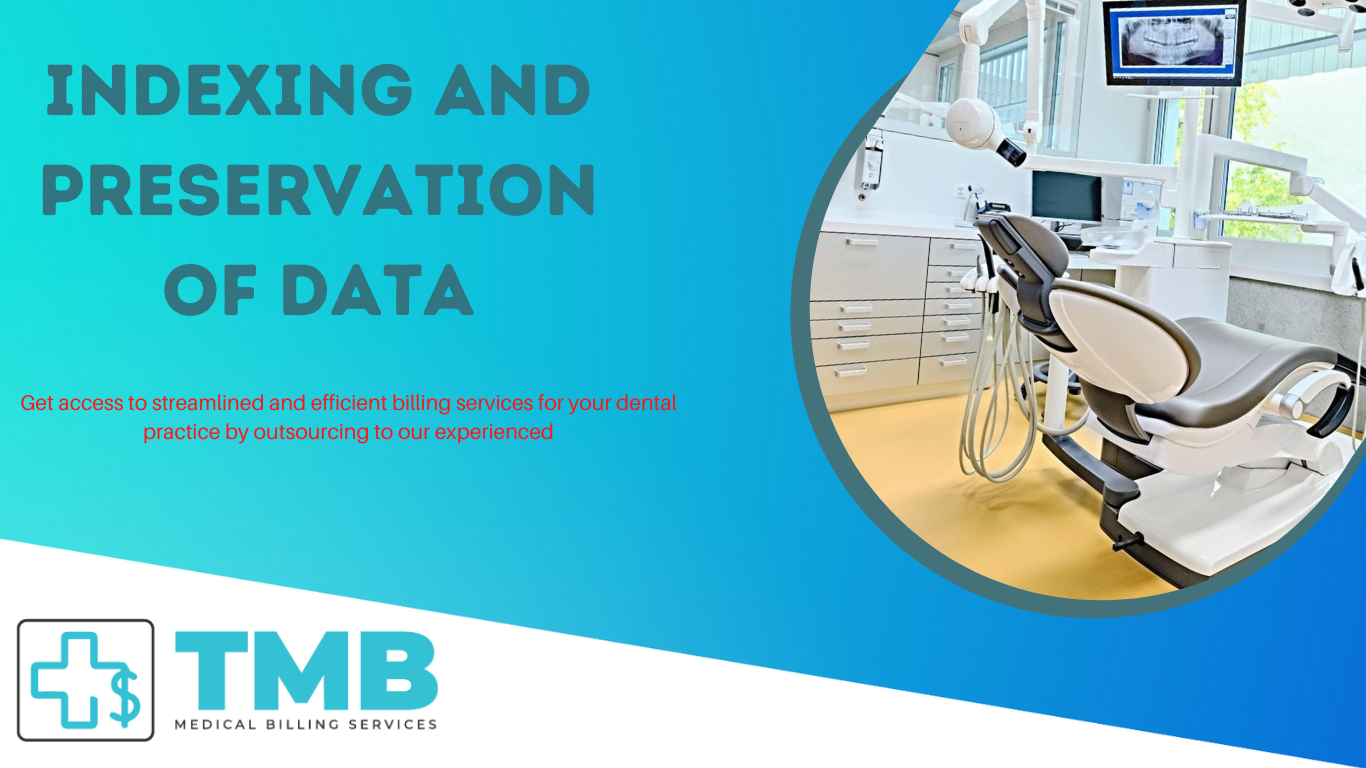 Benefits Explanation
We tell you of the dental expenses that your health care/insurance provider will cover, as well as any payments that you may be responsible for. We provide comprehensive information on deductibles, co-payment alternatives, and insurance plan exclusions.
Accounting Assistance
All of the financial facts provided to us by the insurance provider are double-checked by our staff. With us, you may expect to receive the highest possible payment (even for routine dental expenses) and minimal payment delays from your healthcare professional.
Procedure for Pre-Authorization
Pre-authorizations are sent out to ensure that insurance benefits are maximized. Our dental billing specialists notify the insurance company in advance of the dental procedure to be operated on the patient, which allows the insurance company to specify how much the insurance company will reimburse the dental clinic/office and how much the patient will be responsible for. If necessary, we can assist with sending X-rays and/or periodontal charting. An insurance company can refuse to pay if you don't have pre-authorization. In conclusion, it comes highly recommended.
Co-Patient
Pre-authorizations can be used to assess all transactions, including co-patient payments. In such circumstances, we will advise you on how to proceed.
Resolving Dental Claims
Any conflicts that may arise are resolved. Our staff steps in and clears up any misunderstandings between the claimant and the company. We take pleasure in having the highest number of previously denied claims settled due to typographical errors, wrong diagnose/service codes, or other invalid or missing data.
Dental Medical Cross Coding and Dental Coding
Our dental coders are well-versed in the American Dental Association's Current Dental Terminology (CDT) for oral health and dentistry (ADA). We also have a thorough understanding of the dental codes required to code each dental procedure(s) for submission to a dental insurance plan, as well as codes for cross-coding dental to medical and all J-400 claim form requirements.
Online Claims Application Tracking
You will be given a link to our online monitoring system, which will allow you to track the status of your application. If any obstacles are discovered throughout the tracking process, we instantly verify and correct them.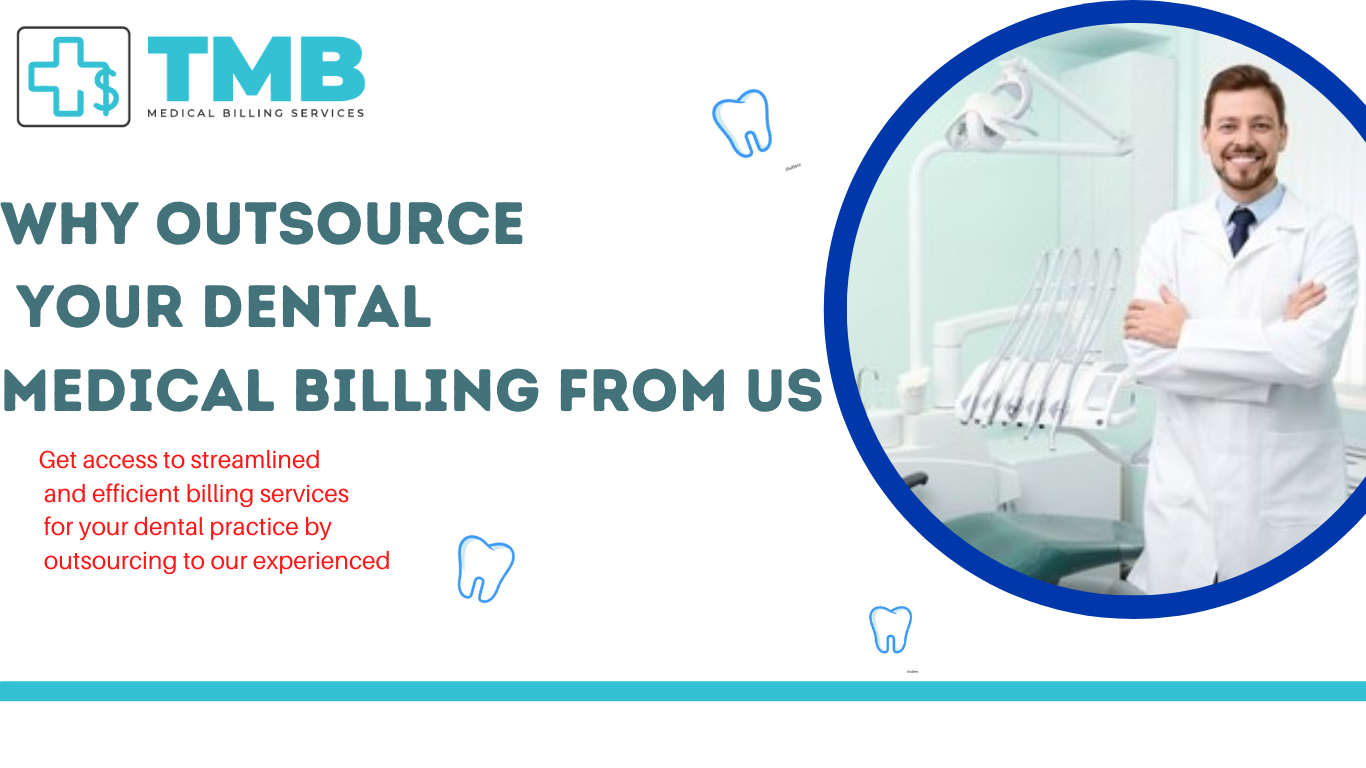 Why Outsource Your Dental Medical Billing From Us
If you choose our pioneer services for all medical bills for dental operations, you will also receive the following benefits:
We have the most up-to-date dental billing software, which allows us to improve claim administration and undertake predictive analysis to avoid probable denials.
Our expert dental billers can access all of your software remotely and in real-time throughout from our remote dental billing company
All claims submitted via us are given to intensive inspection by our in-house team, which reflects our excellent success record.
We're known for submitting accurate reports that follow HIPAA guidelines.
The time and resources we devote to processing your dental claims make it advantageous to use our services.
We keep all of your dental records, clinic/hospital records, and patient information safe and secure. We carefully adhere to our non-disclosure agreements.
If any vital information for the dental claim is missing or incomplete, our dental billing experts providecomprehensive explanations.
With our perfect solutions, you can expect to get the most out of your insurance claim as quickly as possible.
We are dedicated to delivering you including all reimbursements in the shortest amount of time possible, thanks to our well-developed system and swift handling.
We handle all of your dental billing processes with a single point of contact.
Every claim is thoroughly documented, and you can access it at any time.
We prioritize your dental billing, resulting in fewer claim payment delays.
Our dental billing services are available in all time zones throughout the world. Our team of dental billing experts may be reached by chat, phone, e-mail, or social media platforms at any time throughout the year to arrange on-site consultations, give out free quotes, or provide any assistance.